So I decided to join @SuperWendy in the #TBR Challenge. Basically, she's going to force me to sift through my massive TBR pile (To Be Read Pile for  the uninitiated). I love this idea. Have I told you lately how much I love this idea? So, I say thank you,Wendy, for coming up with it!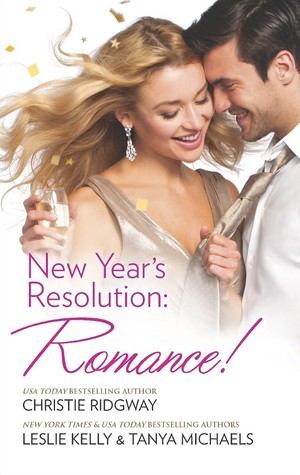 Now, down to business. January's homework–I also love homework–was to read a novella. My first thought was of a novella by Tanya Michaels that had slipped past me. The book is New Year's Resolution: Romance! and Tanya Michaels's novella is "Just a Fling." I've read a lot of Tanya Michaels, and this story is quintessentially her and yet quite different also. Think a madcap spy story complete with caftans, creative extermination methods, and fortune cookie collections.
Erin Cross needs to come out of her shell. She makes two New Year's resolutions: to get on a plane and to have a fling. She hits a snag in Cancun when FBI Agent Campbell Foster mistakes her for an important witness he needs to bring in for protection. Unfortunately, the bad guys think she knows more than she does and set out after her and her unexpected knight in shining armor. Campbell and Erin flee to Atlanta where close quarters do nothing to dampen the attraction between them, but can Erin convince Campbell to forgive himself for his past mistakes so he can take a chance on what they have between them?
It's just a FUN story that reminds me of Jennifer Crusie's Agnes and the Hitman, and Campbell has to do some groveling at the end if you like for your heroes to give good grovel. If I had one complaint, it's that I think it could've been fleshed out into a full-length novel. That said, the pacing is tight and the story complete.
Now that I've finished the bare minimum of my homework for the month I'm working on the other two stories in the book, "Say Yes" by Christie Ridgway and "No More Bad Girls" by Leslie Kelly. Eventually my thoughts on the book as a whole will end up on Goodreads. (Normally, I'll post my #TBRChallenge thoughts both here and on Goodreads at the same time)
Next month, my assignment is to catch up on a series in which I've fallen behind. Why don't you join me in the challenge, and I'll see you on the third Wednesday!