It's that time once again, that time when I write about books because I want you to give the gift that keeps on giving. Here are a few suggestions from the books I read in 2015 and beyond.
I'm going to start with 2 novellas I read this year–these are e-gifts for your bestest girlfriends, methinks. Amber
Belledene has a novella about a seminary student in Brazil that you need to read. It's called "One Sinful Night in Sao Paulo." It's erotica so give it with care. Your Aunt Ruthie may be down with the spice, but I'm just letting you know. Similarly, Jennifer McQuiston's "Her Highland Fling" is absolutely charming. The heroine has a stutter; the hero has mystical Scottish cows; burly men are tossing logs–what more could you want?
Like a little magic with a Jane Austen sensibility? Then you should try Mary Robinette Kowal's Shades of Milk and Honey. What a fun read that was. Also in a fantasy vein, I discovered Cyndy Aleo's serial The Forest's Son. Warning: that one starts with quite the hook. You'll want to know what the hero doesn't want to remember.
Like the 1920s? Go forth and fetch a copy of Deanna Raybourn's A Spear of Summer Grass. Then you'll want City of Jasmine and every other thing she's written, but I have a special place for Delilah's story. Summer Grass is just so damn lush. 
For you
r southern fiction, I present you with two very different books: Sweetwater Blues takes place mostly in a prison. Only Raymond Atkins could make that work. The Idea of Love is Patti Callahan Henry's take on a hero and a heroine who are lying to each other but, in doing so, telling the truth. The former is your pragmatic, blue collar take on the South. The latter is a bit more romanticized. Both excellent.
If you like for your stories to chew you up and spit you out, then you need Kristan Higgin's If You Only Knew. This is for you folks who need a good cathartic weeping from time to time or for you writers to study. Similarly Nicholas Butler's Shotgun Lovesongs is full of these great characters and phrases for anyone searching for a story with enviable prose. 
On the romance front, I read the classic Bet Me by Jennifer Crusie. Yes, it is worth every bit of hype. Go get it. If you're a guy and trying to figure out why ladies read romance, pick this one up. Also, I lurved Tanya's Michaels' If She Dares, in particular, because she always finds a way to add humor and heart to a sexy read. Forget about the slutty pumpkin–this book will be your new favorite Halloween tradition. Farrah Rochon's Stay with Me Forever is a great coming home story. I love how she's crafted her small Lousiana town and have more books from that series on my TBR for 2016. Finally, A Bollywood Affair will sink its teeth in you and not let go–rarely have I ever met a more sympathetic heroine.
For young adult, I've been a bit lax, but Jay Asher's Thirteen Reasons Why is easily worth four or five other YAs. I cannot wait for them to bring this to the small screen. It's a mystery wrapped up in teen angst with a social message–that's something hard to pull off, but Asher does it. 
On the nonfiction side, The Immortal Life of Henrietta Lacks really is a must-read. Not only is it a story that needs to be told, but it's told beautifully. Sometimes the book reads also like suspense. Intersections  by Nicki Salcedo brings fresh perspective to any number of subjects. You can get a preview of her poignant writing each Wednesday at Decaturish. And I finally read Roxane Gay's Bad Feminist. Not only am I comforted to know I'm not the only "bad feminist" out there, but there's a reason she's known for rhetoric. Beautifully written insightful essays–Gay and Salcedo pair nicely! Oh, and I don't want you to read Ava Gardner: The Secret Conversations because I
want to make a movie out of it. Just kidding. Ava is a pistol, and you need to know all about her.
I'm going to end with mysteries. Tess Gerritsen is one of my favorites and her Die Again delivered. This one has a great parallel story set in Africa. But, quite possibly, my favorite book of the year is Deanna Raybourn's A Curious Beginning. Y'all. If you're looking for a headstrong heroine who knows her mind and seeks adventure, you must meet Veronica Speedwell. Raybourn even pulls off what others have rarely been able to do: a male sidekick who is still masculine and very much Veronica's partner. This is lady power, folks. Come for Veronica, stay for Stoker. Learn about taxidermy and knife throwing–you can't lose.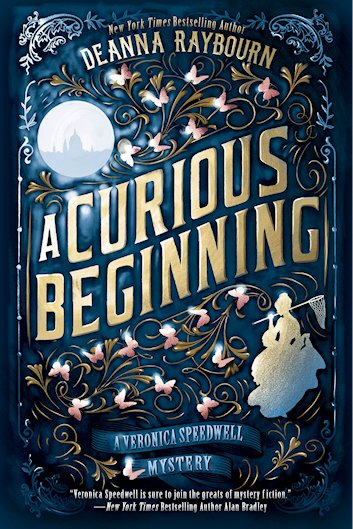 I love to write this post and yet I always have to leave something out–feel free to peruse my books over at Goodreads. Nothing beats, however, getting a good book on Christmas Day and not being able to put it down. I'm looking at you Tayari Jones–I remember fondly reading Leaving Atlanta in, oh, two days. Here, too, is a link to another post I did on books to read. It includes J.K. O'Hanlon, who has these great books about booze and cocktails. Pair that with a bottle of something-something, and you'll have a great gift. Check out 3 Ingredient Cocktails and 12 Happy Hours. Those are some oldies but goodies.
P.S. I do know a lot of these authors. I have critiqued with Jennifer McQuiston and Tanya Michaels. I lean heavily on Nicki Salcedo. I went to school with Ray Atkins. I know several other authors peripherally through social media or conferences. That's my disclaimer, but I stand by their books being just as awesome as those by the folks I don't know. I had no agenda in writing this post other than to share the wealth of awesome books. Go forth and find something you like to read.
P.P.S. I'm not sure where to put Tiffany Reisz on the gift-giving spectrum, but I think you ought to read her work, too. Well, okay. If truly explicit things aren't your bag, maybe you should skip her work, but otherwise jump in there. I guess it's a gift to you from you because goodness knows I can't quit anything she's written. Just remember to start with The Siren.
P.P.P.S. This is the part where my husband tells me I should do a better part of promoting myself. I would be honored if you chose The Happy Hour Choir or Bittersweet Creek as a gift for someone. My books are southern fiction tales that have a little grit. Great for book clubs, and I will be happy to make an appearance if we can coordinate schedules. Oh, and if you tell me soon, I can put a personalized book plate in the mail to you if you'd like one of those.
P.P.P.P.S. (I don't think I have all of these Ps and Ss right. Oh well) Once you finish your Christmas books, please go give the author a gift by leaving an honest review. Amazon doesn't want me to leave reviews anymore because I'm an author lady. So, if you're a reader, you can also be a rock star. Leave a review.